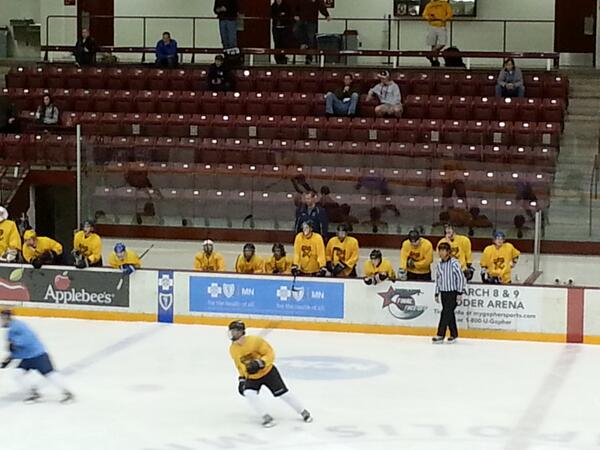 Can you overdose on live hockey? I have certainly tried this weekend. I'm up early to bust out this article recapping the evening session from day three. The tryout camp will conclude this morning (Sunday) with two all-star games. If the two games are like last year, the first game will include some of the younger players at camp, and also some of the undrafted players who have impressed the coaches. The second all-star game will include most if not all of the returning vets, a lot of the draft picks, and "free agents" who the coaches feel have a good shot at making the team. I'm really looking forward to that.
As soon as I have the all-star rosters I am going to email them to BellTolls who will put them on the blog, so keep an eye out for those sometime after 10:00am CST on Sunday. I will not be able to post a recap article of the two all-star games until I get back to Lincoln late Sunday evening. As soon as the last all-star game concludes, I'm going to hop in my car and drive the 7 hours back to Lincoln.
Game #13: Team Red (4-0 vs. Team Black (3-1)
In the battle of the top two teams at camp, Team Red used a strong second half to finish the camp undefeated (5-0) with a 6-4 win over Team Black. Scoring for Red was Brandon Parker, Gordie Helmuth, Max Freeman, Garrett Hehir, and David Parrottino (nice bar down wrister). Scoring for Black was Brandon Smith (nice snipe), Dominick Sacco (2 goals), and Magnus Hoff. Black fell to 3-2 after the loss.
Red goaltender Jacob Nehama started the first half of the game and gave up two goals. Red netminder Michael Tilford started the second half and also gave up two goal. Black goaltender Dylan Parker started the first half of the scrimmage and gave up two goals. White netminder Sean Healy started the second half of the game for Team Black and gave up 4 goals. There was one fight in this game which saw Red defenseman Zack Pittman win a close decision over Black forward John Simonson.
Players from Team Red who stood out in my opinion were David Parrottino, Gordie Helmuth, Taylor Maruya, Max Freeman, Max Humitz, and Brandon Parker. Players from Team Black who impressed me were Michael McNicholas, Jared Bethune, Ludvig and Magnus Hoff, Luke Shiplo, Ken Citron (Dax Lauwers clone), Dominick Sacco (great combo of speed and skill), and Brandon Smith (good combo of size and skill). My MVP of Team Red goes to forward David Parrottino. "Tino" is a smaller dynamic player with very good stick handling abilities. I think he's a lock to make Lincoln's roster again next season. My MVP of Team Black goes to defenseman Luke Shiplo, who the Stars acquired from the Des Moines Bucs last month. Very polished d-man, who is a bit on the small size, but he has boatloads of skill. I can see why Western Michigan wants him for their hockey program. I hope he can be the guy to quarterback Lincoln's PP next season.
Game #14: Team Royal (0-4) vs. Team Yellow (2-2)
Team Yellow finished camp with a 3-0 shutout win over Team Royal, who finished with an 0-5 record this week. Scoring for Yellow was Garrett Brossart (two goals), and Jared Kolquist. Yellow improved to 3-2 after the win.
Yellow goaltender Nick Schmit started the first half of the game and did not give up any goals. Yellow netminder Jacob Dittmer started the second half and also pitched a shutout. Neither goaltender on Yellow was tested that much in this game. Having said that, apart from Michael Bitzer, I think Schmit and Dittmer are the two best goaltender at this camp. Royal goaltender Ashton Good started the first half of the scrimmage and gave up two goals. Royal netminder Joey Staely started the second half and gave two goals. There were no fights during this game.
Players from Team Yellow who impressed me were Connor Chambers, Jared Kolquist, Nate Repensky, Eric Brenk, Grant Loven, Hunter Anderson, Garrett Brossart, Thomas Carey, and Jake Larson. Players from Team Royal who stood out to mere were Wayland Williams, Lucas Little, Nicholas Monfils, Miles Manson, and Chris Cobham. My MVP for Team Yellow goes to Stars forward Garrett Brossart who had his best camp of camp. He's looked progressively better as these games have gone along. My MVP of Team Royal goes to forward Miles Manson who has played very well as a free agent on a team without any draft picks.
Game #15: Team Columbia (2-2) vs. Team White (1-3)
The last scrimmage of the camp before the two all-star games saw Team Columbia squeak out a 4-3 shutout win over Team White. Scoring in regulation for Columbia was David Powlowski, Daniel Willett, and Daniel Kucerovy. Scoring in regulation in White was Anthony Song, Scott Dornbrock (penalty shot), and Blake Brazil. In the shootout, Columbia players Zach Zech and Kyle Berry both scored. White forward Black Brazil had the lone shootout goal for his team.
Columbia goaltender Brandon Wildung started the first half of the game and gave up two goals. Columbia netminder Joshua Stone started the second half and gave up one goal. White goaltender Sean Healy started the first half of the scrimmage and gave up one goal. White netminder Michael Bitzer started the second half and gave up two goals.
There were two fights in this game. White forward Christian Howard earned a decision over Columbia forward Drew Doyon. 15-year old White forward August Von Ungern-Sternberg got a clear win over Columbia forward Carter Reid.
Players from Team Columbia who impressed me were Daniel Willett, Nicholas Rutigliano, Zach Zech, Brenden Dunning, Todd Koritzinsky, and Daniel Ducerovy. Players from Team White who stood out in my opinion were Kyle Williams, Jalen Chatfield, Scott Dornbrock, August Von Ungern-Sternberg, and Blake Brazil.. My MVP of Team Columbia goes to defenseman Daniel Willett who had a busy Saturday. Willett played in a total of four games on Saturday due to injuries on other teams. We all know about his size, but his skating, stick-handling, and passing skills are very good. He's had a terrific camp. My MVP from Team White goes to the youngster August Von Ungern-Sternberg. "Auggie" is one of the more skilled 15-year olds I've ever seen. He could put some weight on his frame, but there's plenty of time going forward to do that. Very talented kid, and I hope the Stars can find a spot on the roster for him next season.
Back at it this morning for the two camp all-star games. Thanks for reading. - Tim